How important is domain name for seo?
Your domain name is one of many factors that can affect search engine optimization (SEO). While it is not the most crucial factor, having a relevant domain name that contains keywords can help grow your website's search engine rankings.
Having a memorable and easy-to-spell domain name can make it more likely that users will remember and revisit your website. When you choose a domain name that includes relevant keywords related to your business or niche, it can help your website appear more relevant and trustworthy to search engines. However, you need to balance this with user-friendliness. There is no point in having a really long and complicated domain name just because of the keywords. If you are buying an existing domain name, you should also factor in the authority and link equity it already has.
It is important to note that domain names alone are not enough to guarantee high search engine rankings. To improve your organic rankings, you must practice great SEO – which includes investing time and effort into content, ensuring your website's technical structure meets best Google practices, and building backlinks from other relevant websites.
12 SEO tips when considering potential domain name ideas
Brainstorming domain name ideas is something that should be done carefully and thoughtfully. It can be very expensive to rebrand your business if you need to change your URL and in the context of SEO, you may lose accumulated PageRank if the redirects are not done properly after domain migration. There are a lot of different strategies for picking domain names. It may simply come down to domain name availability for some companies – find out more.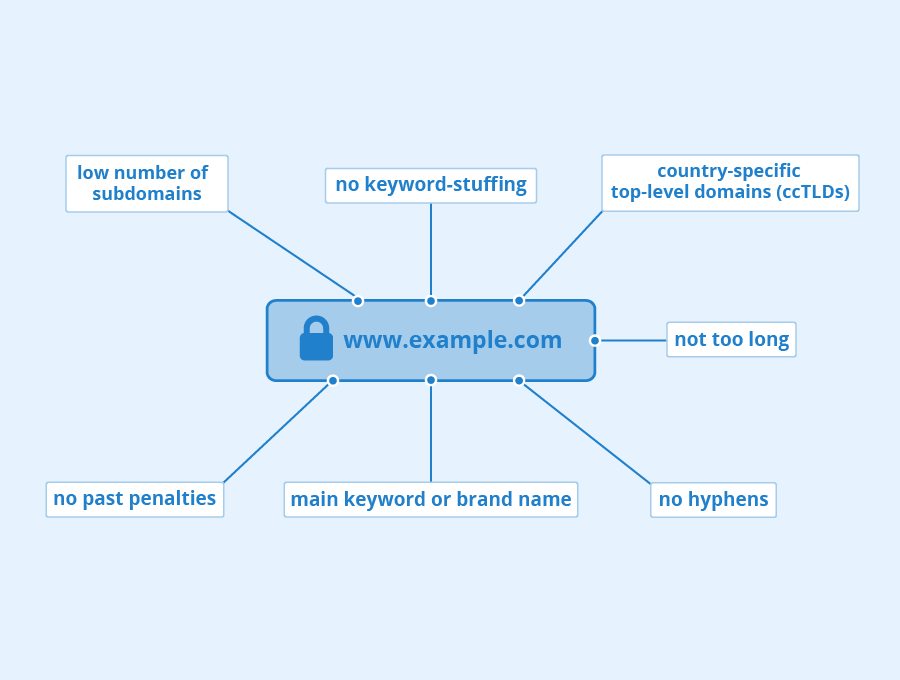 Reach For The Top Level Domain Extension
A top level domain (TLD) extension refers to the suffix attached to internet domain names such as .com or .com.au. A TLD extension is one of your strongest selling tools and may be the first introduction a customer has to your company. Some SEO experts believe that a TLD like .com.au or .com rather than .biz, .info etc gives your site more weight in Search Engine algorithms while others believe that customers see a TLD as having more credibility.
Additionally, new TLDs have been introduced in recent years, including such variations as .expert, .guru, .club, and more – Google has stated that these TLDs are treated the same by search engine algorithms as other generic TLDs (excluding location based TLDs).
Using Keywords
It is ideal to use one of your primary keywords in your domain name but it's important to strike a balance and not spam your URL. Brainstorm five possible keywords and then add prefixes and suffixes to create good domain names. Keywords tell both users and Search Engines what the website is about. If you are targeting a particular region, you may want to add your locality to improve local search rankings.
Make It Obvious And Memorable
URLs ideally should be intuitive, memorable and if a customer can guess the products and services you are selling simply by your brand name, then it has achieved its purpose. SEO experts say an obvious URL is a great URL so find names that reflect your products and services. A lot of customers will simply type your brand name into a browser followed by the TLD. It is also recommended that the domain name is easy to pronounce and spell.
Less Is More
Less is more when it comes to thinking about potential domain name ideas. Google's Matt Cutts says "If you can make your title four- or five-words long – and it is pretty natural. If you have got a three, four or five words in your URL, that can be perfectly normal. As it gets a little longer, then it starts to look a little worse. Now, our algorithms typically will just weight those words less and just not give you as much credit."
Branding VS Keywords
Businesses such as 'Apple', 'Google' and 'Virgin' all use a similar domain strategy. The names are usually one word in most cases, unique and distinctive. In all instances, these companies have spent a lot of money on branding campaigns to promote their company to consumers and educate them about the products and services they are providing. A small business is not likely to have the budget to carry out these campaigns.
Matt Cutts talks about the branding vs keyword strategy when thinking about domain name ideas in the following Google Webmaster Help video.
Mix Of Keywords And Branding
Keyword based domains and brandable domains are not mutually exclusive. Some companies decide to use a strategy of branding and keywords by incorporating a keyword within their brand such as our own company name 'www.seoworks.com'. Ideally you want to find a name that is easy to find in searches but also has commercial appeal.
Think About Longevity
Choose a domain name that will grow with your company, whether you are planning to expand into different regions, bring out different product lines or diversify your business. You also want a URL that will serve your company's needs now and well in the future and will not date. While a popular culture reference or having a fashionable brand name may work now, it may not be understood or relevant fifty years from now.
Avoid Dashes And Numbers
This may be unavoidable if you cannot obtain the TLD you require but if possible try and steer clear of dashes and numbers unless they are integrated into the business name. Search Engines may see this as spam and this may have an impact on website rankings. Dashes and numbers are also not as user friendly as it is not as memorable and may hurt direct traffic if customers misspell your URL and accidently land on a competitor's site.
Promote Your URL
Once you have decided on a URL that you are happy with, it's important to promote it across all your online and offline properties including your social media platforms, print advertisements, banner advertisements and so forth and be consistent with your branding. As your business grows, you may see more direct traffic as customers type your URL into their browser – this is a good sign your brand is well known.
Link Building – Be Consistent
As well as being consistent with your branding in your online and offline marketing campaigns, it is also important to show consistency with your link building campaigns. Whether you choose to use sitename.com or www.sitename.com for example, make sure it is the same across all your different sites. Even if you have a non-www redirect to www, being consistent with link building URLs is important.
Other Extensions
Another common branding strategy that large entities use in particular is to also buy variations of their domain name in other extensions and redirect these URLs to their main domain name. For example if you have a website which has a .com.au TLD, you may want to purchase the .com as well as other extensions. Some companies also purchase the singular and plural version of their name (if applicable).
Domain Renewal
It is critical that you do not allow your domain name to expire as you run the risk of that name being snatched up by a competitor or worse still an unethical company who is holding your domain name to ransom and asking you to pay big bucks for it. To avoid this scenario from happening, register your domain names with a reputable supplier who will send you reminder notices so you can renew your domain name periodically.
What came first the chicken or the egg? Deciding on a domain name can be as important as selecting your company name. As online marketing grows in importance more and more new business start ups are choosing their company names based on the availability of the URL. Our SEO experts can help you find the best domain name ideas for your business which is both user and search-friendly – contact us to find out more.