Mastering local search is key to assist you in growing the online visibility of your business, and an integral part of being found by your customers. This article will look at the importance of consistent and accurate NAP data (name, address, and phone) and some further insights into having correct listings across the web which point back to your brand and business.
As far as importance, having accurate NAP listings has been ranked as the second most important factor when you are trying to rank in a particular city. The Trust factor is something you need to keep at front of mind if you are wanting to succeed.
The Local Search Eco-System
So what makes up the local ecosystem? David Mihm introduced this concept in 2009 in order to describe the process of information exchange between online data providers, featuring information about a business. Here is an infographic from Moz which displays this for the United States –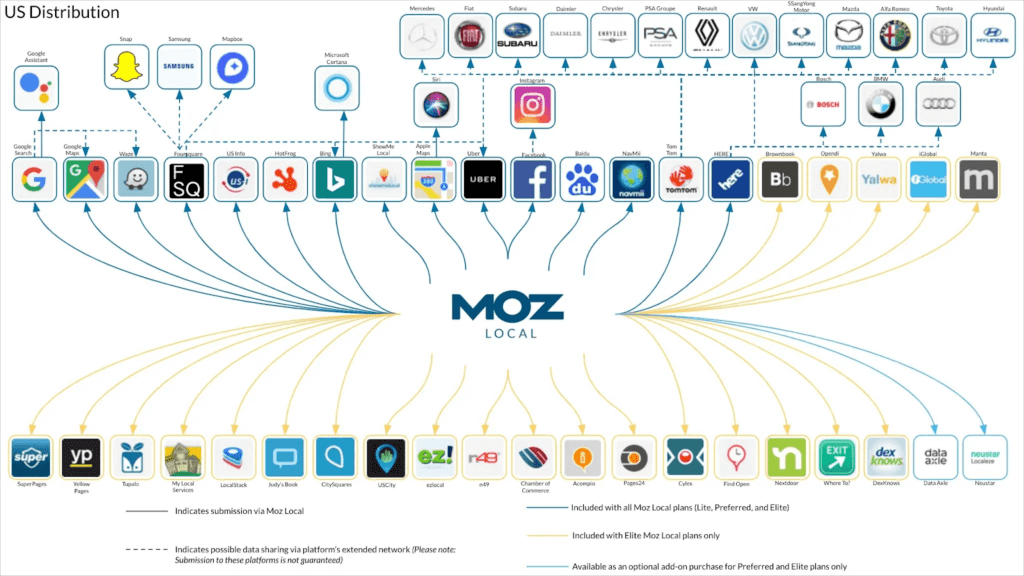 If the information these data providers have about your business is incorrect, it can overrule the details major search engines have, and can negatively impact your visibility.
Be Real
If you are wanting to rank locally, you must be real, meaning a physical location address. This then needs to be coupled with getting your business listed on sites that are local and relevant, including directories, so that the major search engines can see you really do exist. It's important to not fall back into pre-Penguin habits and submit to any old site with zero relevance. Whilst it was a numbers game then, it certainly isn't now – your information should be listed on reputable sites to get you the credit you are searching for.
Do a NAP Search First
Before you start submitting your details, make sure you have completed a NAP search of your business first. You can do this using Google to collate your list, so you know where you are already listed and where you are not. Using search parameters can also assist in ensuring your list is as detailed as possible, and you aren't missing anything. Google also has an Advanced Search tool which provides you with search operators all in one place, and can save you some time in memorizing your options!
Note that you also need to consider variations – did your business move, or change contact details? This could highlight some opportunities you were previously missing out on, by claiming them with current information.
Duplicate Listings
A big no-no. If a local business has multiple listings for a single location in a directory, these are looked at as duplicate listings. There are a number of outcomes that can occur for your website as a result of this, and it can impact your local business's ranking. It's important to just have one complete listing with all the correct NAP details so that when you do show up. This way, users are guided to the right address, phone number and address and the opportunity is then ceased. This is also key to building and maintaining the Trust Factor, so that search engines, such as Google, can attribute other forms of information to your search results including hours of operation, reviews, map details etc.
Customer Reviews
Why are these important for local search? Word of mouth has always been a powerful tool that will either enhance and assist your business or do the complete opposite. Reviews are critical for local search, as other users looking for your services will look to this information when deciding on whether to reach out to you or not. Here is an example from Arizona Grand Resort & Spa –
A lack of customer reviews may indicate that your product or service is not well known or used and could reduce the trust factor for consumers. Having many negative reviews that provide a low rating is also not ideal. It's important to have the right mix of genuine and authentic feedback so users landing on your result will have the confidence to connect with you and your business.
Local Map Pack Factors
The local pack are the search results which appear in a map at the top of search results, and include your business name, map, reviews, and other contact information.
Over time, your site builds domain authority so that search engines can determine which content is of quality and want to provide to the user. To improve your probability of appearing in the map pack, you should consider the following factors:
Google My Business – ensure your listing details are accurate and up to date and that your local listing has been verified.
Your physical business address needs to be in the city you want to rank for. As the pack shows map results, Google wants relevant businesses coming up.
Ensure you have good quality listings and citations – as mentioned above, it's imperative to have relevant and quality sites mentioning your name, address, and phone number across the web.
More info on how to set up Google My Business properly can be found in our 4-part series.
The moral of the local search story is this: users want to see correct and up-to-date information, so they can be pointed in the right direction and be given the information required. They want it quickly and easily. Trying to manipulate search results just isn't going to help you. So if you want to show up, and be part of the local results, you need to do things the right way. This can be time-consuming and will require some effort, but will also help you work towards achieving your end goal of claiming your spot in the local real estate.
For additional reading on local search, check out this article on Search Engine Land.