The Vault Magazine was an online and printed magazine set up in December 2010 with the ambition of creating a "cool magazine" for readers in the Peace Region.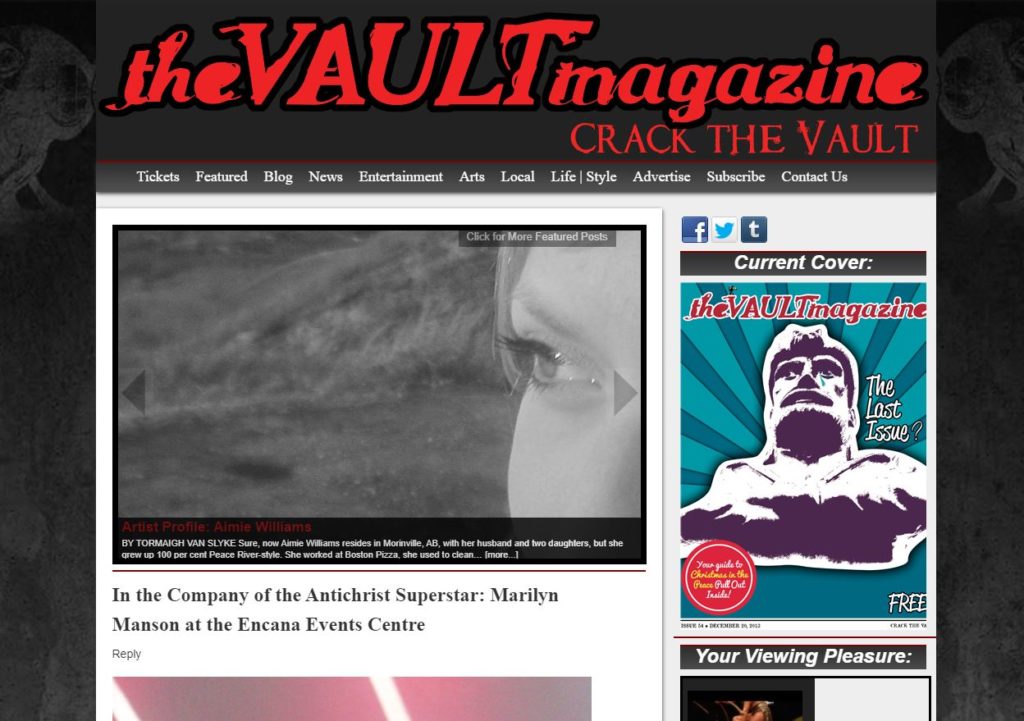 The Peace Country region in north western Alberta covers an area of 110,854 square kilometers, larger in size than South Korea. The region accounts for 17.3% of Alberta's land mass and for 3.5% of Alberta's population.
They launched with their first post outlining their approach:
"First words of advice, find a different word. You think it's cool, and it is cool, but many business owners and some readers here are turned off by the word alternative. You will spend your first year trying to get the word out there and the second year trying to re-position the brand, calling it the "edgy" newspaper instead, which is a poor substitute for "alternative." I ended up just calling it cool. Maybe you'll have a better idea. Get back to me on that one."
With a population of around 130,000 the Peace Country Region wasn't the densest area but the readership grew to be a dedicated following, and over it's years of existence The Vault Mag covered everything alternative in the area, from Arts to Entertainment, Current Affairs and Lifestyle.
It was a great example of content marketing, before content marketing even became a thing. Why? For these reasons:
The content they produced was for a specific target audience
The content met the needs and enquiries of the target audience perfectly
The editorial was written to a high standard, in-depth, and contained good information you couldn't find anywhere else
The content was published regularly
The content engendered a community to share and engage, and take action
Infact the site became so popular that the team commercialised their offering, with subscriptions and advertising being the main methods of monetisation.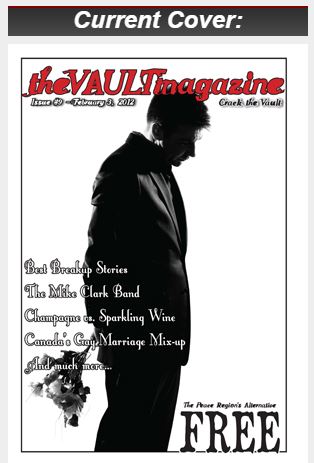 However in 2015, after issue 54, The Vault Magazine ceased production, with an emotional statement on the website, citing other business interests and financial stress:
"Since December 16, 2010, we have worked tirelessly to create what the Peace Region was missing—a cool magazine, filled with cool things, for free. Why? In short, growing up here we yearned for more. We went out, found more, achieved more and came back from our studies gleaming with idealism and enthusiasm. We thought hard and decided a cool magazine, filled with cool things, for free could change the Peace Region. And, it did. It has ushered in a new era for Northern Alberta and sparked hope in the minds and hearts of many. Cheesy? No, it's nothing short of incredible.

We won't deny it, in a lot of ways theVAULTmagazine has rewarded us handsomely. We have earned the respect of fine Peace Region business people and residents. Strangers have crossed the street to thank us and applaud us for our efforts. We won the Young Entrepreneur(s) of the Year award from the Peace River and District Chamber of Commerce in 2012. We've truly come leaps and bounds from Issue One. We've learned a lot and grown as people, publishers and business owners.

Conversely, the financial stress has proved too much for theVAULTmagazine to handle. The good news: because we have worked hard to become the best at what we do here in the Peace Region, we have acquired some great side projects, including Move Up magazine. These other ventures have proven fruitful and deserve a lot of attention and care. So, we've scaled our core staff back down to just us two and we have recently acquired some excellent downtown office space in Peace River."
Whether you agree that this is an early form of content marketing or not, it's clear that they had a vision and delivered that for the time that the magazine was in existence. Long live the independent publishers and the local insights they uncover and share with their communities!